Our website is currently under construction - please check back soon for more info or call (608) 356-2520
The Sauk County Humane Society is an open admission shelter - no animal is ever turned away.
The Sauk County Humane Society (SCHS) is an open admissions shelter and turns no animal away in its time of need, no matter what its age, condition, extent of injuries, or behavior. Click on the About Us tab to learn more!

SCHS News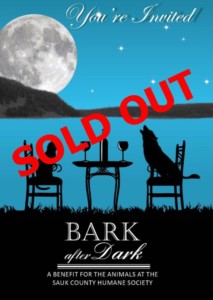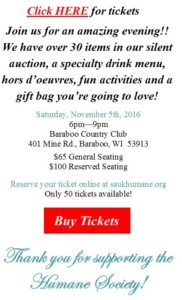 ---
WE'RE HIRING!!
ADOPTION COUNSELOR/FRONT DESK
Are you interested in making a difference in the lives of animals? Are you looking for a job with lots of variety? Then this job is for you! We are looking for an individual to provide support to all customers and instill a favorable first impression to all SCHS customers. Must be able to work in a fast-paced, often stressful environment, carry out general office functions, and maintain a commitment to the philosophies and policies of the SCHS in the performance of his/her duties.
Must be able to greet all customers in a friendly and welcoming manner, answer phone questions, be able to work a multi-line phone system, give information about specific animals, explain the adoption process to shelter visitors, counsel potential adopters in selecting a pet that fits their lifestyle, discuss the responsibilities of pet ownership, data entry, and filing.
Qualifications: High School degree required, further education preferred; animal shelter experience highly preferred; excellent communication, problem-solving, and basic computer skills; able to work independently and on teams; able to handle the physical and emotional work in an animal shelter, including the use of euthanasia. Must be able to handle a wide variety of animals including dogs, cats, small mammals, birds and wildlife in a safe and humane manner. Must possess a thorough understanding of and dedication to the philosophies of animal welfare and humane handling. Must possess a valid driver's license and have a good driving record.  Must be able to work some weekends and holidays.
Compensation: Starts at $9-$11/hour depending on previous experience and knowledge.  Vacation time and health insurance.
If interested, please email a cover letter and resume to Rose rose@saukhumane.org.
Dog of the Week
Gigi
Gigi is a three year old Pitbull mix who was surrendered because her owner could no longer care for her. Gigi is a lovable dog. Although she needs to be the only pet in the family, she is a typical Pit "people dog." She is fond of very short walks because her favorite spot is inside on the couch beside you…or in your lap. And she especially loves belly rubs. She is an intelligent dog who still needs some work on her manners. Gigi is spayed and up to date on all vaccinations.
Cat of the Week
Dolly
Dolly is a one and a half year old domestic shorthair cat who came into the shelter with scrapes and abrasions all over her face. She was also a nursing mom but no kittens could be found.  While at the shelter she adopted an orphan kitten who needed several more weeks with a mom cat.  Both of them are now ready for adoption.  Dolly is a sweet, gentle cat who loves to sit on laps.  She would do well in just about any kind of home.  Dolly is spayed and is up to date on all initial vaccinations.




Have You Ever Thought About Fostering?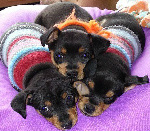 Everyone enjoys hearing the updates, and seeing the wonderful pictures we receive from our volunteers while they have foster animals in their homes, then witnessing the wonderful adoptions at the shelter, right? Now it could be your turn to be a part of this process! Are you interested in helping us save and care for more cats, kittens, puppies and/or dogs simply by opening up your home? Have you thought about it, but weren't sure exactly what fostering entails? Now is the PEFECT time to ask! As a volunteer at the Sauk County Humane Society, you have a wonderful and rewarding opportunity to directly help the lives of animals that come through our door.
The need for committed foster families is especially urgent from spring to fall, known in the animal shelter world as "kitten season." Cats (and many animals in general) tend to breed in warm weather, which means local animal shelters get flooded with litters, sometimes accompanied by their moms, but very often orphaned. These babies can't stay in the shelters–their undeveloped immune systems make them susceptible to diseases carried by other animals.
Fostering in a home environment where they are able to grow and thrive makes a world of a difference to these animals. You are saving lives and creating a positive outcome for these innocent creatures! The shelter is always taking applications for foster families, but ESPECIALLY now! Already have animals at home? That's okay! You can have current pets at home and still foster dogs/cats. Call at the shelter at (608) 356-2520 or send the Volunteer Coordinator an email at volunteer@saukhumane.org and we'll work to get you on the fast track to becoming a foster parent!