Please pardon our dust...we are working on our website.  However, all functions are available including menu items across the top so you can find all animals available for adoption.  Our DONATE NOW button is also working!!  Please check back soon for our completed website!!
The Sauk County Humane Society (SCHS) is an open admissions shelter and turns no animal away in its time of need, no matter what its age, condition, extent of injuries, or behavior. Click on the About Us tab to learn more!
SCHS News
WE HAVE THE PERFECT CAREER OPPORTUNITY!!
WE ARE LOOKING TO HIRE AN ANIMAL CARE (KENNEL) MANAGER!!
We are seeking an energetic and compassionate individual responsible for oversight and care of animals in an open admissions shelter and managing a team of caregivers. Requires ability to delegate, train, and evaluate kennel staff. Oversees all aspects of animal care, including feeding and well-being. Must be self-motivated and able to perform physically rigorous tasks. Requires flexible schedule including weekends. Must have excellent verbal, written communications skills and have the ability to create and maintain accurate records. Must be computer literate. For a more detailed job description and/or to submit your resume, please email rose@saukhumane.org.
Dog of the Week
Barney
Barney is a nine year old pug mix who was found wandering outside with another dog in the bitter cold. After no owner was found they were both made available for adoption. His companion has been adopted and now Barney is looking for his forever home. He is a friendly, playful dog and while he gets along with other dogs he does not do well with cats. He came in with terrible teeth but has since had a dental. Barney is neutered and up to date on all vaccinations.
.
Cat of the Week
Azure
Azure is a two year old Siamese mix who was found outside in the bitter cold. He was severely emaciated and had frostbitten ears. After spending several weeks on a nutritious diet and receiving pain management for his frostbite, he is now available for adoption. Azure is a friendly, loving cat. He likes to play but especially loves to be pampered and petted while sitting in someone's lap. He would do well in just about any home. He is neutered and up to date on all vaccinations.
.



Have You Ever Thought About Fostering?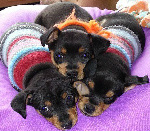 Everyone enjoys hearing the updates, and seeing the wonderful pictures we receive from our volunteers while they have foster animals in their homes, then witnessing the wonderful adoptions at the shelter, right? Now it could be your turn to be a part of this process! Are you interested in helping us save and care for more cats, kittens, puppies and/or dogs simply by opening up your home? Have you thought about it, but weren't sure exactly what fostering entails? Now is the PEFECT time to ask! As a volunteer at the Sauk County Humane Society, you have a wonderful and rewarding opportunity to directly help the lives of animals that come through our door.
The need for committed foster families is especially urgent from spring to fall, known in the animal shelter world as "kitten season." Cats (and many animals in general) tend to breed in warm weather, which means local animal shelters get flooded with litters, sometimes accompanied by their moms, but very often orphaned. These babies can't stay in the shelters–their undeveloped immune systems make them susceptible to diseases carried by other animals.
Fostering in a home environment where they are able to grow and thrive makes a world of a difference to these animals. You are saving lives and creating a positive outcome for these innocent creatures! The shelter is always taking applications for foster families, but ESPECIALLY now! Already have animals at home? That's okay! You can have current pets at home and still foster dogs/cats. Call at the shelter at (608) 356-2520 or send the Volunteer Coordinator an email at volunteer@saukhumane.org and we'll work to get you on the fast track to becoming a foster parent!